COMPLETE LIQUIDATION OF
BELLA CUCINA TRATTORIA ITALIAN RESTAURANT - AIKEN, SC

DUE TO THE REVITALIZATION OF THE SHOPPING CENTER, BELLA CUCINA HAS CLOSED ITS DOORS. BELLA CUCINA IS ONLY 1 YEAR OLD. ALL EQUIPMENT WAS BOUGHT NEW. THIS IS THE CLEANEST EQUIPMENT WE'VE SOLD ALL YEAR.

DON'T MISS THIS AUCTION!!

LOCATION: 1055 PINE LOG RD. AIKEN, SC 29803
(AT THE INTERSECTION OF SILVER BLUFF & PINE LOG RD.)
Map of 1055 Pine Log Rd Aiken, SC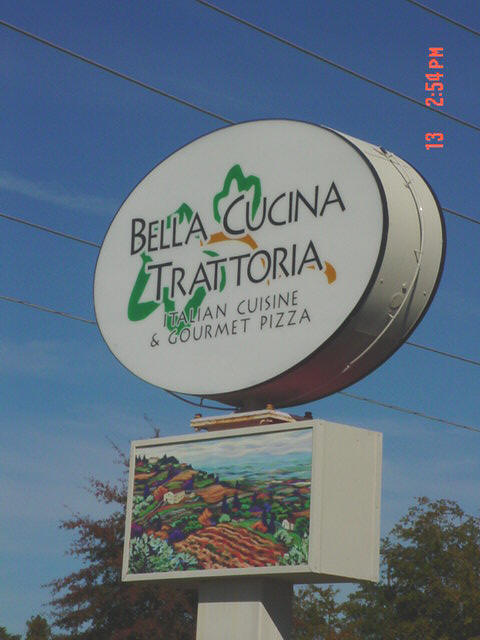 PARTIAL LISTING:
• SEATING PKG FOR 100 PEOPLE. VARIOUS SIZE TABLES. APPROX. 125 WHITE OAK CHAIRS. ALL LIKE NEW!!
• BEAUTIFUL LIGHTING PKG W/HAND BLOWN FIXTURES & ANTIQUE WALL CONSOLES.
• MONTAGUE DOUBLE PIZZA DECK OVEN 48 ½" MODEL# MON-24P2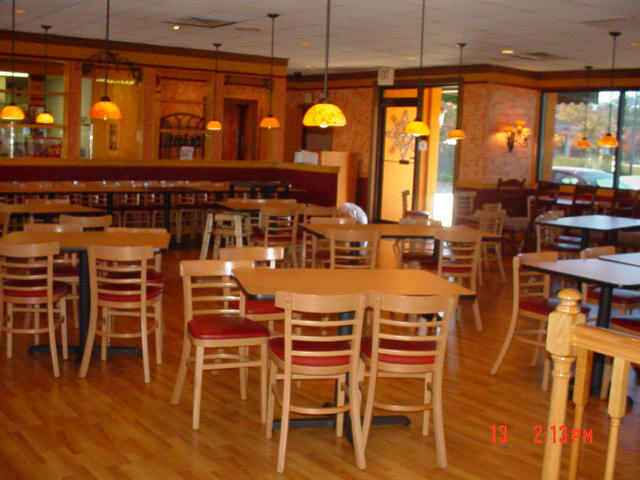 • MONTAGUE DOUBLE PIZZA DECK OVEN 60 ½" MODEL# MON-25P2
• VULCAN CHAR-BROILER 51" WIDE MODEL# VULHGB-50
• VULCAN FRYER 45 LBS CAPACITY MODEL# VULEF-4
• (2) VULCAN HEAVY DUTY 34" W 6 BURNER INTERNAL CONVECTION OVEN
MODEL# VULGH6CSP
• TRUE REFRIGATED COUNTER 93 1/4" WIDE MODEL# TRU-TPP93D6
• TRUE OVER SHELF FOR 93 1/4" UNIT MODEL# TRU-875353
• TRUE REFRIGATED COUNTER SANDWICH SALAD STATION 4-DRAWER 48" MODEL# TRU-TSU4812D4
• TRUE DOUBLE SERVICE SHELF FOR 48' UNIT MODEL# TRU-883003
• HOBART DISHWASHER DOOR TYPE WF INTERNAL BOOSTER HEATER MODEL# HOBAM-1 56
• (2) ADAVANCE TABCO STANDARD WORTABLE SS 48X24 MODEL# ADV-FMG244A
• TRUE WORKTOP FREEZER 48 3/8' 2-DOOR MODEL # TRU-TWT48F
• TRUE CUTTING BOARD 48X27 1/4 MODEL# TRU-812308
• TRUE L- BRACKETS FOR CUTTING BOARD MODEL# TRU-881 540
• ICE-O-MATIC 300LBS PRODUCTION ICE MACHINE MODEL# LOM-ICEO25OHA
• TRUE DRAFT BEER COOLER 59" WIDE MODEL# TRU-TDD2S
• BERKEL PLANETARY MIXER, 60 QT MODEL# BERPM6O
• BERKEL VEGETABLE SHREDDER ATTACHMENT #12 MODEL BERVSPH
• BERKEL 5/16" PLATE FOR SHREDDER ATTACHMENT MODEL# BERBOI13O
• ADAVANCE TABCO ECONOMY WORKTABLE S/S FLAT TOP W/ UNDERSHELF MODEL# ADVELAG243
• LINCOLN WEAVER SAUCE POT, 60 QT HEAVY DUTY ALUMINUM MODEL# WEA4I6O

• HOBART 12" SLICER MANUAL, MEDIUM DUTY MODEL# HOBEDGE1
• (5) ALEGACY FRY PAN 12" DIAMETER ALUMINUM MODEL# HALEW1030
• (5) ALEGACY FRY PAN 14" DIAMETER ALUMINUM MODEL# HALEW1035
• (30) ALEGACY FRY PAN 10" DIAMETER ALUMINUM MODEL# HALEW1025
• ALEGACY SAUCE POT, 18 QT MODEL# HALEWPCI8
• ALEGACY STOCK POT, 400T MODEL# HALEW4O
• ADAVANCE TABCO DISHTABLE, CLEAN MODEL# ADVDTCS6O48R
• IBM BACK OFFICE SET-UP: PENTIUM IV, 2.4GHZ; 40XCD; 40GB HARD DRIVE; 8 PORT HUB; 56K EXTERNAL MODEM; PC ANYWHERE HOST; WINDOWS XP;
256 MB MEMORY
• (2) RADIANT POS TERMINAL; INTEL CELERON 1.2 GH CPU MODEL# P1510 W/256 MB MEMORY; 15 ACTIVE MATRIX TOUCH SCREEN; MAGNETIC STRIP READER
• EPSON THERMAL AUTO CUT PRINTER & THERMAL PRINTER POWER SUPPLY
• (3) SMART POWER BATTERY UPS W/ POWER CONDITIONER
• (2) SMART POWER CONDITIONER/ GROUND GUARD MODEL# TBF1
• (2) EPSON AUTO CUT PRINTER
• ALOHA CASH DRAWER
• (2) ALOHA TABLESERVICE SOFTWARE
• (2) ALOHA CREDIT CARD MX
• ALOHA DELIVERY/ FREQUENT BUYER
• MARS 48" AIR CURTAIN
• MANITWOC AIR-COOLED ICE MACHINE
• MANITWOC 430 LB ICE STORAGE BIN
• DEAN FRYMASTER/PASTA COOKER 35LB
• CANVASWORKS FRONT CANVAS AWNING W/ LOGO
• (2) 1/2 QT MEASURING CUP
• (2) 1QT MEASURING CUP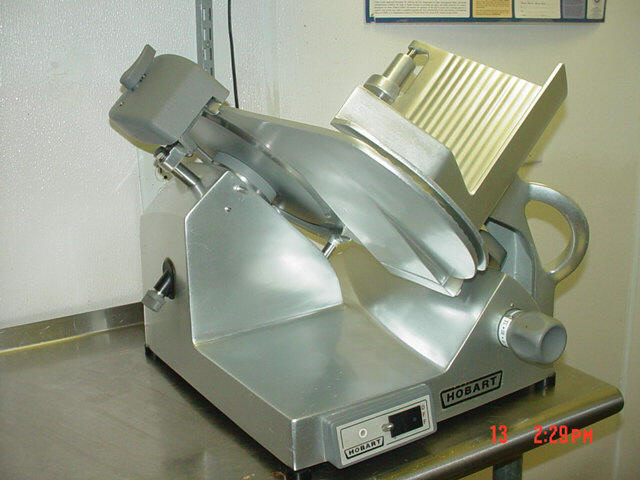 • 2 QT MEASURING CUP
• 10", 14", 18" FRENCH WHIPS, S/S
• 10", 16", 18" PIANO WHIPS S/S
• 18" ROLLING PIN
• (2) 3/4 QT MIXING BOWL S/S ROUND
• (2) 1/2 QT MIXING BOWL S/S ROUND
• (2) 3 QT MIXING BOWL S/S ROUND
• (2) 5 QT METAL MIXING BOWL
• (2) 8 QT METAL MIXING BOWL
• (2) 13 QT METAL MIXING BOWL
• 16 QT MIXING BOWL
• 20 QT METAL MIXING BOWL
• UTENSIL SNAP RACK 48" LONG
• CALL BELL 3.5" BRASS FINISH
• (4) ONE PIECE LADLE 2OZ
• (2)EA ONE PIECE LADLE 4OZ, 6OZ, 8OZ, 12OZ
• COARSE MESH SKIMMER 6" DIAMETER
• FINE MESH SKIMMER 6 3/4"
• (4) VEGETABLE PEELER S/S
• (6) EXTRA HEAVY DUTY TONGS 9 1/2"
• (2)EA EXTRA HEAVY DUTY TONGS 12", 16"
• ECONOMY COLANDER 16 QT
• MEASURING SPOON SET S/S 4 PIECE
• (2)EA HIGH HEAT SCRAPER 9 1/2", 13 1/2", 16 1/2" LONG
• (2) PREFORATED TURNER 8X3
• HANGING PAN RACK 5' 4 HOOKS PER FOOT
• (3) 2 3/4 QT SAUCE PAN WITH HARD COAT
• 72" X 30" WORKTABLE S/S
• LID FOR CARB-X AND SQUARE CONTAINERS 20
• SEVERAL SQUARE SPACE SAVING CONTAINERS 2QT-18QT
• (3) PAIL WITH BAIL 22QT
• (3) 12" COVER FOR ROUND CONTAINER
• COMPACT PORTION SCALE, 16OZ 1/4OZ
• (4) SOLID SPOON 14 Ύ"M
• (4) PERFORATED SPOON 16 Ύ"
• (4) SOLID SPOON 16 Ύ"
• PASTA AND VEGETAVLE COOKER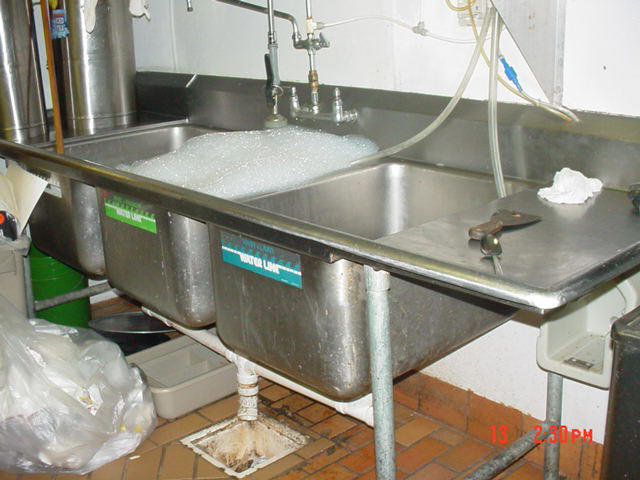 • (2) DOUGH SCRAPERS
• CHINA CAP 12" 6QT
• LIGHT DUTY FOOD PROCESSOR
• CHINA CAP 12" 4QT
• IMMERSION BLENDER 12" SHAFT
• (150) EASTERN STAKING DOUGH PAN 48OZ
• (50) EASTERN STAKING DOUGH PAN 96OZ
• SET OF CASTERS
• CIMFAST QUICK DISCONNECTOR
• (6) ROUND PASTA BASKET S/S
• 4 CASES OF VOLLRATH SS SAUCE CUP
• (4) BLACK DIAMOND FRY PAN
• (18) SYSCO 22G STEAM TABLE PAN (FULL)
• (4) SYSCO 22G STEAM TABLE PAN (HALF)
• (8) SYSCO 22G STEAM TABLE PAN (1/6)
• (4) SYSCO COOLER THERMOMETER
• (2) SYSCO THERMOMETER PKT TEST
• CASE OF PLASTIC SQUEEZE BOTTLES
• CASE OF FLATWARE COMBINATION RACK
• 4 CASES OF PLATE & TRAY RACK
• CASE OF HIGH CHAIR
• VOLLRATH BANMARIE 11QT
• (2) SYSCO PAN INSETS 11QT
• (5) KATACHAL SANITIZING PAILS
• (6) GLASS RACKS 3FT
• (2) GLASS RACKS 4FT
• (5) CHECK HOLDERS
• (10) VOLLRATH ADAPTER BARD
• (8) BUS TUBS
• (15) 4" FOOD STORAGE PAN (1/9)
• (12) 4" FOOD STORAGE PAN FULL
• (12) 4" FOOD STORAGE PAN HALF
• (24) 6" FOOD STORAGE PAN (1/6)
• (6) 16" GRIPTITE TRAY
• SEVERAL METAL MIXING BOWLS 20QT, 3QT, 5QT 18QT
• (2) DOUGH CUTTERS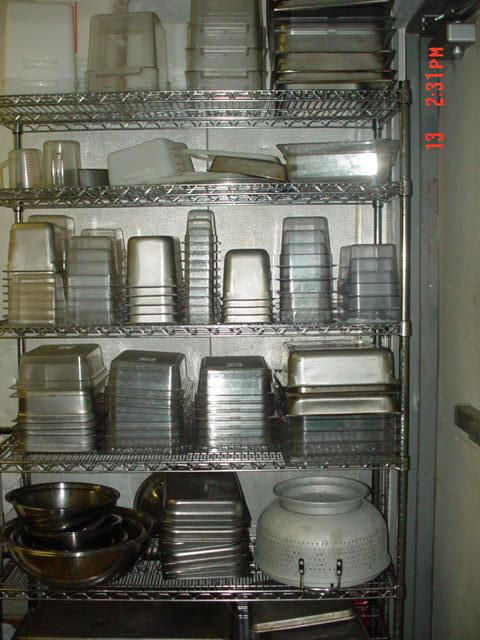 • (2) SMALL METAL PIZZA PEEL
• PIZZA PEEL HANGER
• PIZZA PEELS 14X36, 18X18
• (5) METAL PIZZA STANDS
• (2) TRAY STANDS
• CEILING GLASS RACK
• (2) STEAK WEIGHTS
• SYSCO SQUEEZE BOTTLES CASE
• (4) DURAWARE DREDGE SS
• (4) SYSCO STEAM TABLE PAN 22G
• (2) VOLLRATH ICE SCOOP BOWL
• (4) CARLISLE SCOOP POLY CLEAR
• (6)EA VOLLRATH PERFORATED SPOON, SOLID SPOON
• SYSCO STOREN POUR CASE
• SYSCO GRIPTITE TRAY
• CASE OF CREAMERS
• 4 CASES OF 8OZ RAREBIT
• SYSCO 8QT SQUARE FOOD CONTAINER
• 2 CASES OF VOLLRATH SS SAUCE CUP
• (10) SYSCO LIDS FOR 6&8QT CONTAINERS
• SEVERAL SYSCO FOOD STORAGE PANS 4" (1/9), (1/2), (1/3), (1/6)
• (6)EA SYSCO ALUM SHEET PANS 18X26, 18X13
• (3) SYSCO GRIPTITE TRAY
• (2) AUGTHOM PASTRY BAGS
• (18) SYSCO 8QT SQUARE FOOD CONTAINERS
• SYSCO 6OZ GLASS SHAKER CHEESE
• (18) HANDBLOWN GLOBE DROP LIGHTS
• (2) TRIPLE WALL SCONCES
• (2) SINGLE WALL SCONCES
• WROUGHT IRON CHANDELIER
• BEAUTIFUL 12' SNEEZE GUARD
• ALMOST NEW 2X2 CEILING TILES TO BE REMOVED
• METRO RACKING VARIOUS SIZES
• WIRE SHELVING
• BALLY REPLACEMENT BOLTON COOLER DOOR
• LIKE NEW TABLE LINEN PACKAGE GOLD & BURGANDY (SCOTCH GUARD STAIN TREATED)
• ENTRANCE AWNING
• (2) BATHROOM PEDAS. SINKS
• (2) BATHROOM PARTITIONS

TERMS: CASH OR MAJOR CREDIT CARDS. NO CHECKS ACCEPTED. ALL ITEMS MUST BE PAID FOR IN FULL ON SALE DAY. 10% BUYERS PREMIUM . ALL ITEMS SALE AS-IS WHERE– IS WITHOUT WARRANTY. RAIN OR SHINE.