Location: Classic Auction Facility 201 South Central Ave, Locust NC
Map of 201 Central Ave S Locust, NC 28097
DIRECTIONS FROM CHARLOTTE: FROM INTERSECTION OF I-485 & ALBEMARLE RD., TRAVEL EAST ON ALBEMARLE RD. TO TOWN OF LOCUST, AT 2ND STOPLIGHT TURN RIGHT, AUCTION ON LEFT.

PRINT SHOP LISTING: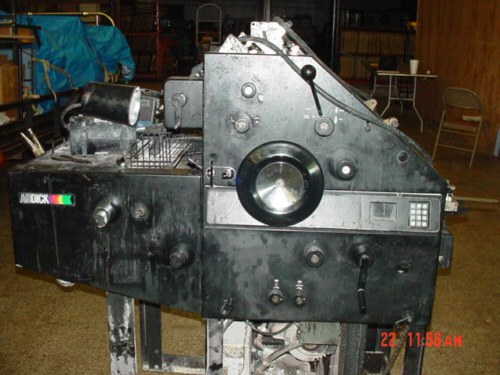 COMPLETE BOOKLET MAKER DUPLO COLLATOR SYSTEM DC-48F* THERMO-O-TYPE GREEN MACHINE* CHALLENGER 35" PAPER CUTTER* (2) A B DICK SINGLE COLOR PRESS* SINGLE HEAD PAPER DRILL* BOXES PAPER & ENVELOPES* OFFSET HAND PUNCH* TWO DOOR FIRE CABINET* O&M MACHINERY INC. (BINDING MACHINE)* SHRINK WRAP MACHINE* PORTABLE BOOKLET STAPLER* FLAT CARTS* SHOP VAC* LAWN MOWER* RUBBER MATS* SMALL PUNCH SERIAL NUMBER 5237* SMALL LIGHT BOX* FLAMABLE TRASH CAN* ROLL SHOP CLOTH* LEAF BLOWER* ROSBACK BINDER BIND-O-MATIC* 4000 MICROMATIC FOLDER SN 4000 MODEL & STAND* FASTFOLD JET SPEED FOLDER* HOLE PUNCH* BLACK-N-DECKER DRILL TOOL* KNIGHT SEAM SEALER* HEAT SEALER* SPIRAL BINDER* LAMINATOR* FULL WRAP MUG PRESS* PORTABLE PAPER CONVEYOR 4683* ASTRO AMC 2000 ROLLER PRESS8 SHRINK WRAP SEALER* SHAKER LECTRO JOG PAPER JOGGER* BOX MENU COVERS* BOXES ENVELOPES* BOXES BINDER COMBES* FOLDING TABLE* 6' FOLDING LADDER* KNIGHT DOUBLE PRESS* BOXES OF PAPER* BOS VARIOUS HAND TOOLS* HAND VAC* QUAD 12 SLITTER* SCALES* AND MORE*

PHOTOGRAPIC EQUIPMENT: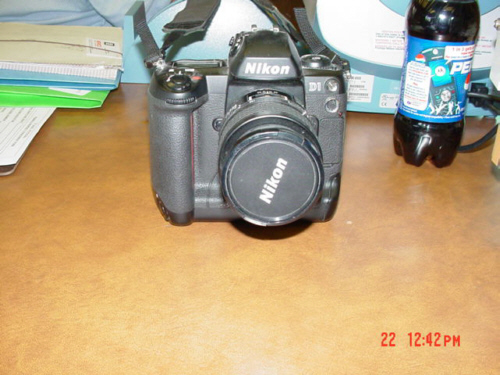 NIKON D-1 DIGITAL CAMERA* NIKKOR 60MM 2.8 AFD MICRO LENS* BOGEN 3246 TRIPOD W/3030 QR HEAD* BOGEN A225BC AVENGER "C" STAND* BOGEN AVENGER D 600 BOOM ARM & #2900 SUPER CLAMPS* BOGEN U-HOOK SET, CROSS BAR, WHITE/SILVER 30" REFLECTOR* SPEEDOTRON 2403CX POWER SUPPLY S/N# 37807* SPEEDOTRON 102 CC LIGHT UNIT* SPEEDOTRON 4 WAY BARN DOOR, 7" GRID SET, 7" SNOOT* SPEEDOTRON 7" GRID REFLECTOR* CHIMERA SUPER PRO 36X48, 24X32, & 9X36 SOFTBOX* CHIMERA SPEEDOTRON SPEED RING*

OFFICE EQUIPMENT & FURNITURE: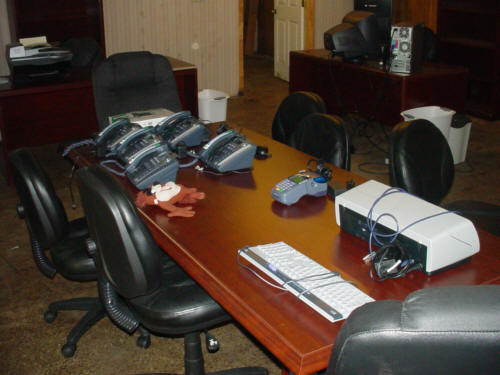 SEVERAL CPU'S* MATCHING BEIGE LEATHER SOFA, LOVESEAT, & ARM CHAIR* ARTWORK (MOST W/AFRICAN THEME), AFRICAN MASK* ACCESSORIES, SILK FLOWER ARRANGEMENTS* MAHOGANY BOOKCASES, APPROX 6FT TALL* MAHOGANY DESKS* MAHOGANY CONFERENCE 8FT TABLE* SHREDDERS* (5) AT&T #984 SPEAKER PHONES, SMALL BUSINESS SYSTEM* LEATHER SECRETARIAL CHAIRS* HP PSC 1315xi ALL-IN-ONE (PRINTER, SCANNER, COPIER)* 4 DRAWER METAL FILE CABINET* 2 DRAWER METAL FILE CABINETS* LEXMARK ALL-IN-ONE (FAX, COPIER, PRINTER)* BLACK VICTORIAN STYLE ARM CHAIR* LAMPS, FLOOR LAMP, CERAMIC/BRASS LAMP* RATTAN END TABLE* FOLDING TABLES* VACUUM CLEANER*

NEW MERCHANDISE– PALLET LOTS: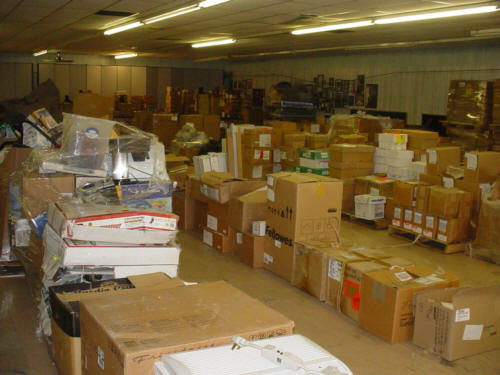 MISC. DISHES, FLATWARE, GLASSWARE* MEDICAL SMOCKS, T-SHIRTS, PARKAS, GORETEX COVERALLS & FIELD JACKETS* LABELSTOCK* MISC. PRINTER TONER* MINI BLINDS* BANDING STRAP (METAL)* HARD HATS* PREMOISTENED TOWELETTES* RETAIL STORE SHELVING* COILS OF 1/2" ROPE* MACHINE GUN TARGETS* OIL SPILL KITS* CONSTANTINE WIRE* FIELD DRESSINGS & BANDAGES* MISC BOOTS* TABULATING MACHINE PAPER* NEW APPLIANCES* MICROWAVES* VACUUMS* SHOP LIGHTS* DROP LIGHTS* WEIGHT BENCHES* TENTS* WEED EATERS* GAME TABLES* SAFES* SUNSHADE SHELTERS* TEST METERS* SOME SOLD BY LOTS, SOME BY PALLETS….COME PREPARED!

APPROX. 2+ TRACTOR LOADS OF NEW MERCHANDISE FROM MILITARY PX STORES, TOOLS, CLOTHES, APPLIANCES, SHOES, & MUCH, MUCH, MORE. ITEMS WILL BE SOLD INDIVIDUALLY & PALLET LOTS.
DEALERS WELCOME, LOTS OF RESALE ITEMS!

ORDER OF SALE:

PRINT SHOP
PHOTO SHOP
OFFICE
PALLET LOTS
TERMS: CASH OR MAJOR CREDIT CARDS. NO CHECKS ACCEPTED. ALL ITEMS MUST BE PAID FOR IN FULL ON SALE DAY. ALL ITEMS SALE AS-IS WHERE– IS WITHOUT WARRANTY. 10% BUYERS PREMIUM . BRING YOUR TRUCKS AND BE PREPARED TO MOVE ITEMS. ALL ITEMS SOLD SUBJECT TO NC GENERAL STATUTE 105242,PARA,A(2). NCDOR RESERVES THE RIGHT TO CANCEL OR POST PONE ANY SCHEDULED SALE WITHOUT NOTICE.