FROM 485, TAKE 74E TOWARDS MONROE. TRAVEL TO 1st STOP LIGHT APPROX. 1 MILE, TURN RIGHT ON STALLINGS RD. TRAVEL .7 MILES LEFT ON GRIBBLE RD. SALE .7 MILES ON RIGHT
Click Here for a Map
AFTER 28 YEARS IN THE MACHINE SHOP BUSINESS, MR. BAKER IS RETIRING. WE ARE LIQUIDATING HIS ENTIRE SHOP WITH NOTHING REMOVED. MR. BAKER WAS VERY PARTICULAR IN KEEPING HIS TOOLS SERVICED, CLEANED, AND WELL-MAINTAINED. DON'T MISS THIS AUCTION!!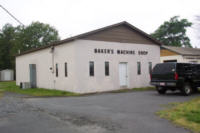 TERMS ON REAL ESTATE: REAL PROPERTY SELLS AS-IS WITHOUT CONTINGENCIES. A $10,000.00 NON-REFUNDABLE DEPOSIT (IN CERTIFIED FUNDS) REQUIRED ON SALE, WITH BALANCE AT CLOSING WITHIN 30 DAYS. THE CERTIFIED FUNDS SHALL BE MADE TO TONY M. FURR REALTY. A 6% BUYERS PREMIUM APPLYS TO HIGH BID. REAL ESTATE SOLD SUBJECT TO OWNERS CONFIRMATION. ANNOUNCEMENTS ON SALE DAY TAKE PRECEDENCE OVER ALL OTHER ADS OR ORAL STATEMENTS MADE.

APPROX. 1 ACRE LOT W/30X50 SHOP. CEMENT BLOCK CONSTRUCTION W/12' CEILING HEIGHT. (2) 10'X10' ROLL UP DOORS, 3 PHASE POWER, NAT. GAS HEAT & A/C. FULL BATH, WATER & SEWER, W/ATTACHED 12'X20' STORAGE BUILDING. PROPERTY HAS LOTS OF POTENTIAL FOR MANY USES. OWNER IS VERY MOTIVATED AND READY TO SELL!!
THIS IS A PARTIAL LISTING , THERE WILL BE HUNDREDS OF MORE ITEMS , THAN LISTED HERE!!!!

ALLIANT VERTICAL MILL 1054-3V, 10"X54", 3HP, 16" CROSS TRAVEL, 37" LONG. TRAVEL, DOVETAIL WAYS, R-8 SPINDLE W/GURLEY POINTFINDER
30 TON SHOP
BRIDGE PORT MILLING MACHINE
MONARCH TURNING LATHE 20", 22.5" SWING, 72" BETWEEN CENTERS
POWERMATIC DRILL PRESS, VARIABLE SPEED FLOOR MODEL
DRILL PRESS TABLE W/ROCKWELL AND WALKER TURNER HEADS
ENERD ARBOR PRESS # 3 1/2
5HP 2 STAGE AIR COMPRESSOR
KEYWAY BROCHES
TROY BILT MULCHER HD / TRISPORT 3 WHEELER
MONARCH TURNING LATHE 114.5 SWING, 12" CATALOGUE SIZE, 30" DISTANCE BETWEEN CENTERS W/4 CHUCKS AND COLLETT ATTACHMENT + TOOL HOLDERS
LOGAN/POWERPATIC MODEL 2557L00H ENGINE LATHE W/TURRETT ATTACHMENT, EXTRA CUCKS AND TOOLING
AMROX HORIZONTAL BAND SAW, C814, 8"X14" 110V
DELTA BENCH GRINDER
BUFFER
UNIVERSAL TURRET LATHE, #4, J&L
KURT VICE, D/80 & D675
NEW IN BOX KURT CNC DL4000 VICE
MITUTOYO MICROMETERS AND CALIBERS
STARRETT MICROMETERS
NSK, MICROMETERS AND DIAL INDICATORS
24" MITUTOYO CALIPER, ALL TOOLS LIKE NEW

MAC TOOL EASY OUT SET
DIE HANDLES AND LOTS OF DIES
ALLEN WRENCH SETS
LOTS OF DIAL INDICATORS AND STANDS
LATHE ATTACHMENTS
KENNEDY MACHINIST TOOL BOXES
NUMIST SPRAY MIST FOR MILLS
PIPE WRENCHES
6"-12" C-CLAMPS
2) WONSEN 135 POWER FEEDS
ENCO BORING HEAD W/ R-8 TAPER
DAKE ARBOR PRESS MODEL 00
2 A MODEL WHEELS AND TIRESHITACHI METAL CHOP SAW
LARGE QTY OF TAPS
MUOT REAMER SET
DRILL BIT SETS
HAMMERS, HAND TOOLS, SCREWDRIVERS, ETC
MAC TOOLS 10 TON PULLER SET, NEW IN BOX
QTY OF END MILLS, (SOME NEW) PIPE TAPS, DRILL BITS, REAMERS, CARBIDE INSERTS
EXTRA DRAW BARS FOR MILLS (SOME NEW)
(3) 5 GAL BUCKETS OF COOLANT
(2) 5HP GAS WATER PUMPS
MAC TOOLS AIR DIE GRINDER
JET BELT AND DISC SANDER
5-C COLLETS, R-8 CHUCKS
CLEVELAND DIE HEADS
SPEED AIRE SAND BLASTER
COLLECTION OF OLD PLAYBOY BOOKS
LOTS OF SET SCREWS, BOLTS, ETC.
NEW IN BOX PIPE THREADER
TOSHIBA COPIER

TERMS: CASH AND CREDIT CARD SERVICE AVAILABLE. ALL ITEMS MUST BE PAID FOR IN FULL ON SALE DAY. NO ITEMS REMOVED WITHOUT PAID RECEIPT. ALL ITEMS SALE AS-IS, WHERE–IS WITHOUT WARRANTY. 10% BUYERS PREMIUM APPLIES TO ALL PURCHASES. BRING YOUR TRUCKS AND BE PREPARED TO MOVE ITEMS. WE RESERVE THE RIGHT TO ADD OR DELETE ITEMS. ANNOUNCEMENTS ON SALE DAY TAKE PRECEDENCE OVER ALL PRINTED MATERIAL.